Growing up, Chinese food was dinner every night. So much so that I would get sick of it. Little did I know what I was lucky enough to have. It wasn't until I had my daughter that I really started cooking. And in the past 3 years or so, she has challenged me to make more Asian food.
As I've been learning to cook I have turned to some incredible blogs to help me with recipes and tips. It's not just about cooking Chinese food. We've been going down a path of Korean, Japanese and all other Asian cuisines as well. This post includes a few of our favorites.
The Woks of Life
This is a family blog sharing their home-cooked favs as well as restaurant quality dishes. There are a lot of dishes we've made from this website, but here are a couple we make over and over again.
Chinese Spaghetti Bolognese
I know this doesn't sound very Chinese but it is delicious. It's super quick and easy to make and is great for those that might not be ready to jump into more traditional Chinese dishes. Again I love the flexibility that you can customize it towards the taste and preferences of your diners.
📸 from The Woks of Life
Taiwanese Beef Noodle Soup
This is a staple in my household. Since I've started making this more often I have made the dish more my own, but I started with this recipe. This is our chicken noodle soup and is so comforting. With this dish, you may find you need to find an Asian market but many elements can also be ordered via Amazon since they are shelf stable.
📸 from The Woks of Life
Other recipe we like
Chicken Mei Fun
Sour Spicy Cold Noodles
Taiwanese Fried Chicken
Omnivore's Cookbook
This blog has great recipes that are easy to make and quick. Even if you're just getting started with Chinese cooking, this is the place for you. Get quick and easy recipies that are authentic and tasty.
Fried Wontons (Air Fryer Version)
Time to start practicing your dumpling wrapping skills. It always takes me a few to get into the rhythm but then I can move through them pretty quickly. I love this combo of pork and shrimp. It's so delicious and crunchy and a fun way to start off any meal.
📸 from Omnivorie's Cookbook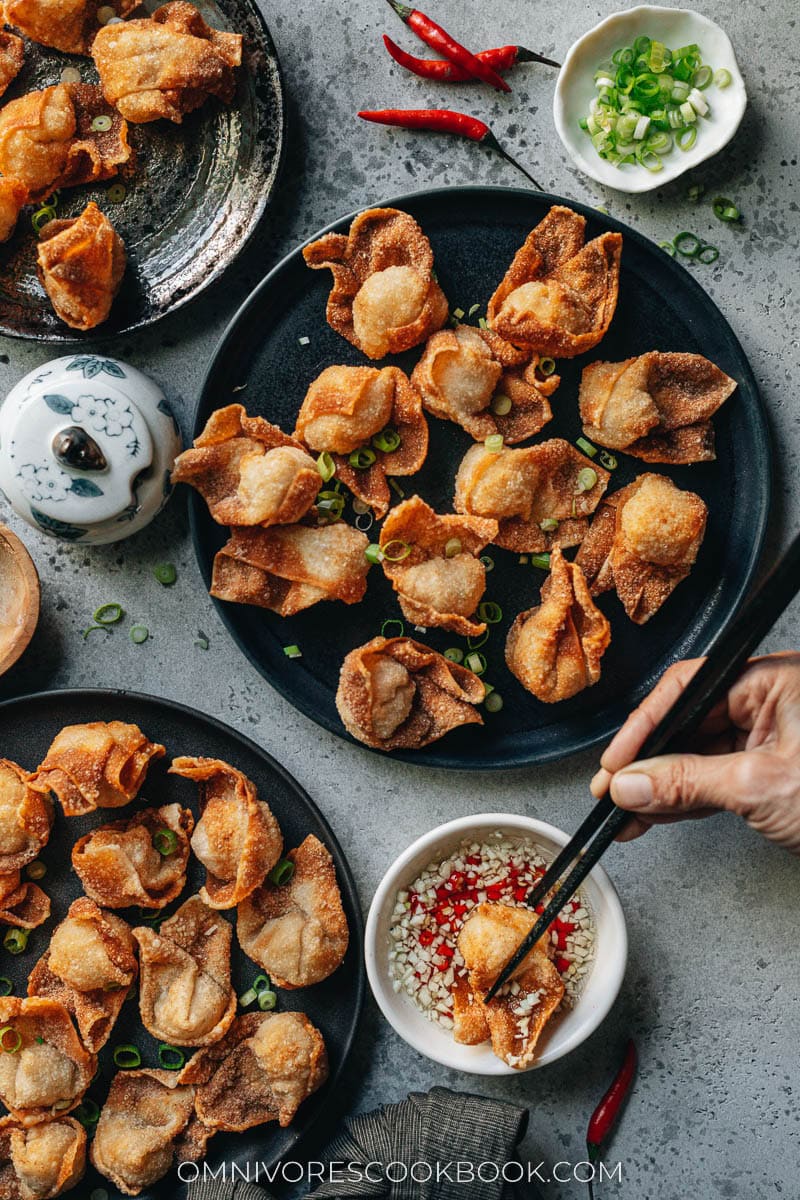 Soy Sauce Eggs
If I could I would always have them in my fridge. The marinade is quick and easy to put together and adds a ton of flavor to your standard hard boiled eggs. I like to make them six at a time and keep them in the fridge for up to a week for a quick and easy snack.
We make them fully hard boiled but you can cook your eggs to whatever consistency you prefer. Great to add to ramen, for a quick snack, fried rice, etc.
📸 from Omnivorie's Cookbook
Other recipe we like
Bean Sprout Stir Fry
Air Fryer Salt and Pepper Chicken
Chinese Sliced Tofu Salad
Honorable Mentions
Japche from Two Plaid Aprons
Karaage (Japanese Fried Chicken) from A Dash of Dolly
Slow Cooker Tikka Masala from Table for Two 
Air Fryer Korean Fried Chicken from Carmy
Khao Soi Curry Noodles from The Gourmet Gourmand
Simple Chicken Pho with JZ Eats
Slow Cooker Vietnamese Pulled Pork Banh Mi from Delightful Plate